Introduction
Search Engine Optimization (SEO) is not a new area of focus, but as the internet and consumers evolve it will continue to change, and so will the best way to use it for your business. Local SEO is especially important for businesses who rely heavily on foot traffic, no matter what industry you are in. In this blog, we will be covering the basics in local SEO and how to get an edge over your competitors in this game of inches.
What is Local SEO and Why Does it Matter?
Local SEO in its simplest definition is the process of optimizing your local business' digital presence, and is primarily beneficial for businesses that have physical locations and foot traffic. A Local SEO strategy following best practices will inherently drive local organic search traffic to your business – most often, through to your website. On Google, this is most often related to the Google Map Pack. Map Pack is a set of the top three organic search results when searching locally for businesses.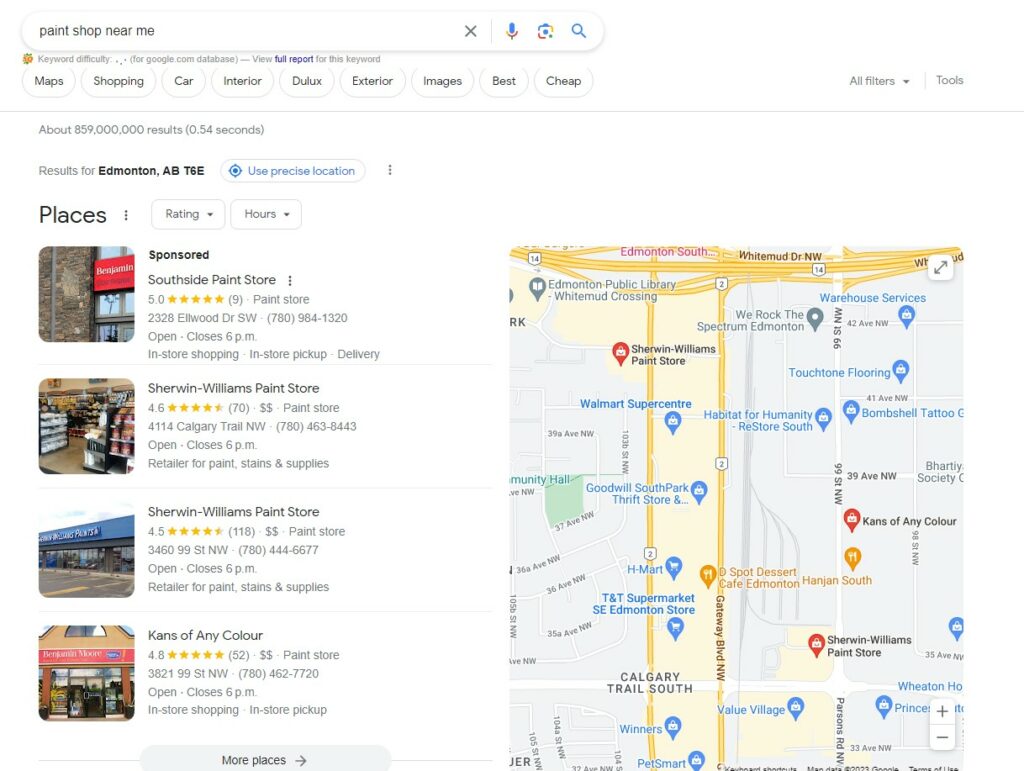 How Search Engines Work
Before we dive deeper into Local SEO, it is important to note that every search engine's algorithm works differently and has different ranking factors. Therefore, ranking highly for one search engine may have different requirements than high rankings on others (Google vs. Bing).
There are various factors that local search engines take into consideration when ranking your presence. To make it simple, even though nothing is simple in SEO, local search algorithms primarily look for 3 pillars; relevance, proximity, and match.
Relevance – How relevant is your business/service offerings to user search terms and keywords? More importantly, how does your website and digital presence reflect this relevance?
Proximity – How close in proximity is the user to your address?
Match – Does the algorithm detect user intent and behaviour that aligns with your business offering
Let's take a quick look at these 3 pillars in action. When you do a quick Google search of a topic like "top chinese restaurant", you will probably see a bunch of review sites (like Tripadvisor) at the top of your search results. Please note that these may show as organic listings or sponsored ads depending on several factors. The image below shows organic results.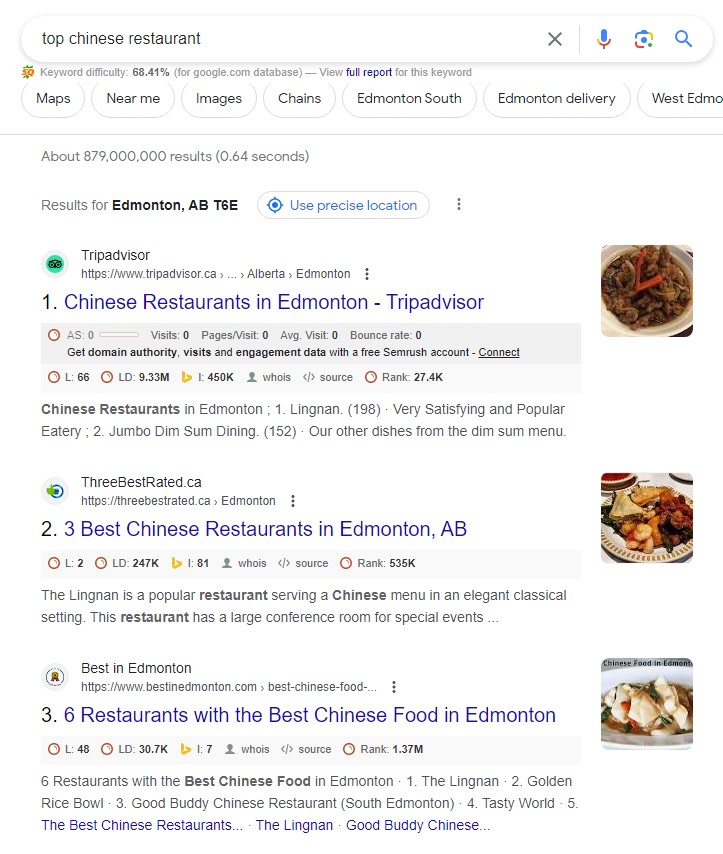 You will also see Google Maps' top three suggestions ("the map pack").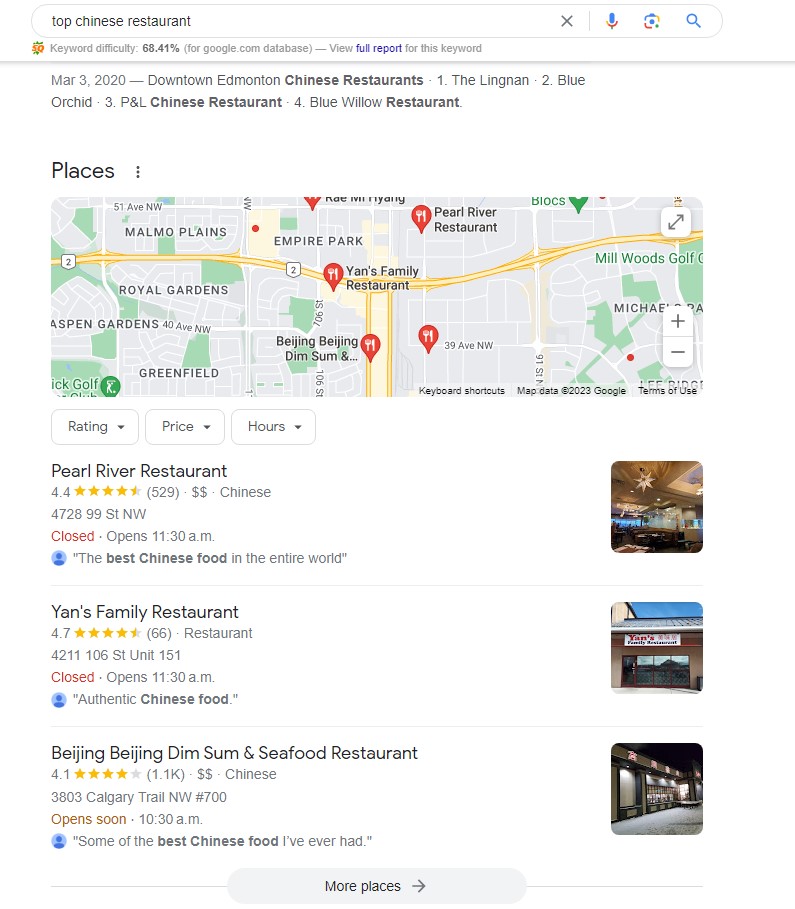 Now, let's reflect on the search results on the three primary factors we mentioned.
Relevance
Because the user searched for top chinese restaurant, results would yield with high traffic review sites that consist of the keyword "top chinese restaurant" or a close variant such as "best chinese restaurant"
Proximity
The results automatically reference the city the user is located in, provided location permissions are enabled. Many search results will include your city, even when it is not included by the user. In the Google map pack, it even shows the top three Chinese restaurants that are close by the user's location.
Match
The intent of the user is to find the top Chinese restaurant, the results received are the top Chinese restaurants that are listed on the internet. There is not a result that has no relation to the user's search intent.
So, What Do I Actually Do To Improve My Local SEO?
Luckily, there are simple steps you can take to maintain a strong online presence, even if you do not have a full digital marketing team at your disposal.
Business Profiles
Make sure you have a local business profile – this would be Google Business Profile (formerly "Google My Business") or Bing Places for Business. Make sure it is verified, has correct information and updated hours.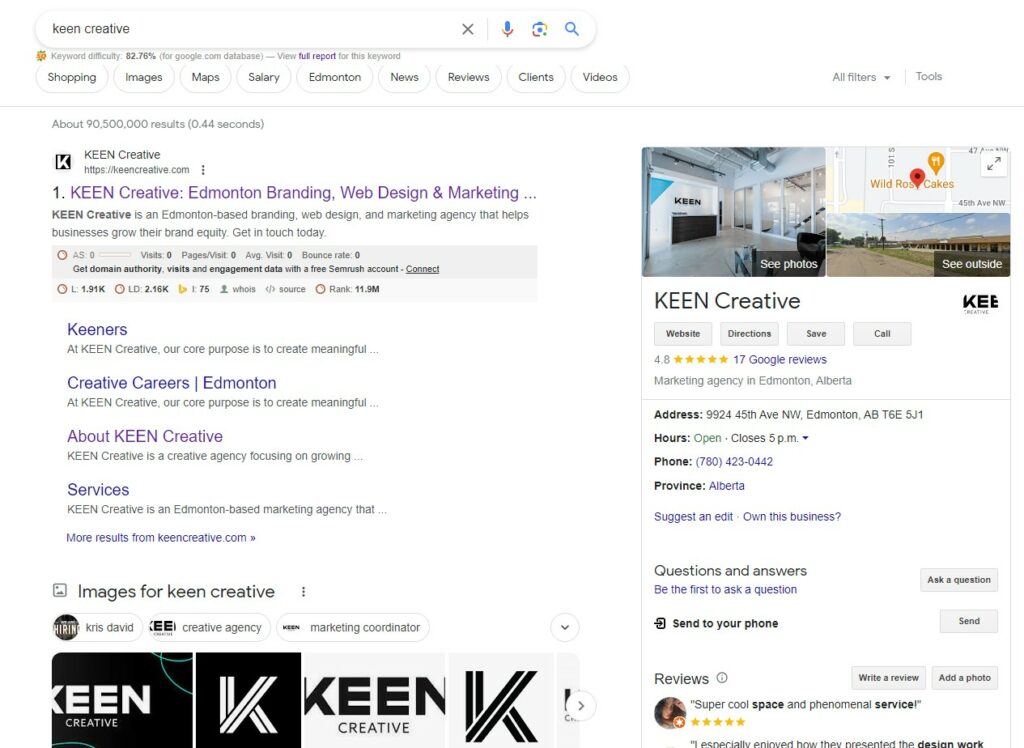 The business profile is a significant factor when contributing to your business ranking on search engines. Be responsive to reviews and encourage your customers and users to review your business. Reviews build strong credibility for users and it is a strong ranking factor in search algorithms as well.
Tip: It is okay to have a non-perfect review score (5 stars), as this adds credibility, reflects the genuinene-ness of your business and allows room for growth. Search engines are becoming smarter at flagging reviews that are not genuine, which will hurt your ranking. So, don't fake your reviews! You can remove bad Google reviews that violate Google's Policies.
Consistent & Updated NAP
Focus on making sure your website, business profiles, and any online directories have the correct information with updated Name, Address, and Phone number(s) – most often called NAP.
Tip: Make sure your NAP appears as text on your website, as search engines will not be able to crawl the text in images.
Relevant Content and Keywords
Having text and content that is optimized for search engine crawlers is a great way to increase the relevance of your content and what you specifically want to be found for. This means that your content will need to change over time, and you may have to update keywords to reflect user search behaviours.
Free tools such as Google Keyword Planner in the Google Ads account or WordStream Free Keyword Tool, which can help you find keywords with high search volume and intent.
Another way to check for keywords is by leveraging Google Autocomplete to get an idea of what people are searching for ("long-tail keywords") When a keyword like "top chinese restaurant" is typed in the search bar, there would be a list of predicted search terms that Google presents such as "top chinese restaurant near me" or "top chinese restaurant in Edmonton" these are search terms that have a history of searches.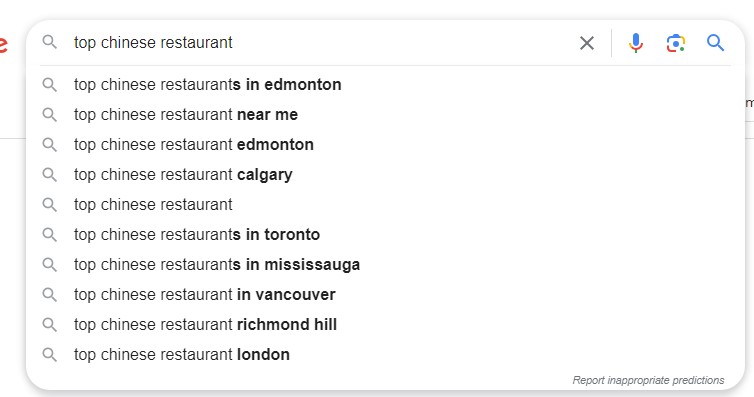 Local Community and Links
With the focus being local, be active in your community! Go out to events that add value to your brand and support causes that your brand is passionate about. Attending local business events is an easy way to get your name out there and to potentially get links from other websites directed towards you. For example, joining the local Chambers of Commerce membership is a great way to help build local links – these partnerships provide you with more credibility not just in your local business community but also in search algorithms. Depending on your specific industry, there are additional free online local directories, associations, and memberships where your NAP information can be displayed.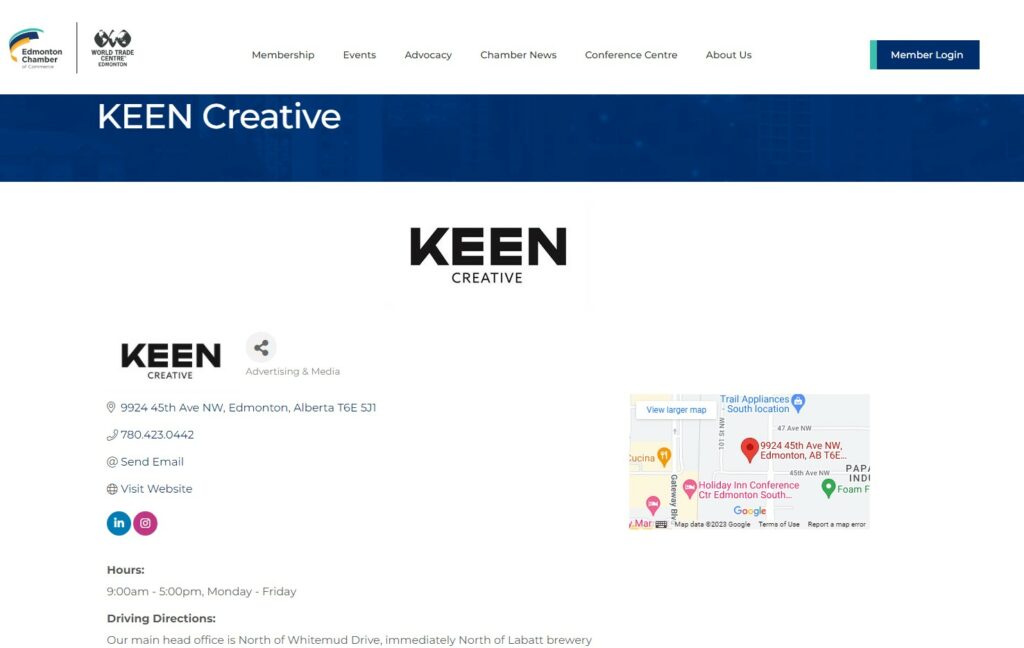 Brands that focus on Environmental, Social, and Governance (ESG) in their business have huge opportunities in Local SEO through the many partnerships they form. Most local charity events and sponsorships will have event pages that link to your site, building your local digital presence further.
Not convinced Local SEO is important or relevant to your business? Well, according to a global survey conducted by Google, 74% of in-store shoppers searched online before going to a physical shop, with most search terms relating to locations (including "closest to me"), hours, and contact information (Google 2019).
Local SEO is a significant factor in driving local traffic to your brand, and this article is just one piece of the SEO puzzle. There are other detailed factors to consider such as links, on-page SEO, technical SEO, and off-page SEO that will impact your overall digital presence further.
Not sure your SEO is up to standard? Reach out to us for an audit to review where you are now and any opportunities to bolster your brand's local online presence and bring you closer to your goals.