You must do more than just haphazardly post on social media and call it a day. To truly connect with your audience, you need to bring your A-game and make sure your social media presence is on point.
That's where working with an agency can come in handy. They'll make sure your social media goals align with your business objectives and that you're speaking directly to your target audience.
Limitations of In-House Social Media Management
Managing social media in-house may seem like an easy option, but it's important to consider the limitations and challenges that come with it.
From limited resources and skills to a lack of time and expertise, let's explore some of the challenges of managing social media in-house for your business:
You are not sure where to start
If you're new to the world of social media or haven't had much success in the past, working with an agency can help you get started on the right foot. By working with you, they can develop a strategy, identify your target audience, and choose the right social networks for your business.
You have no time for social
Social media is a great way to connect with people and grow your business. However, it takes time and effort to maintain and grow.
If you're already stretched thin, working with an agency can help take this burden off your plate while ensuring that your social media accounts never get put on the back burner and are always a priority.
You are not seeing results
Maybe your followers are not engaging with your posts as much as you would like, or your follower count has not been growing. No matter the issue, an agency can help you reevaluate your strategy and identify areas for improvement.
Social isn't your jam.
Even if managing social media may not be your area of expertise or interest, your business can still excel on socials.
Working with a creative agency can help you tap into their expertise and experience. You will gain access to an experienced team of designers, copywriters and strategists who know how and what works on social platforms for various audiences. The team can handle various related tasks as they are well-versed in digital and can execute at an efficient pace. No need to be a social guru yourself!
–
If some of those points are ringing true and you're thinking, "huh, maybe I do want to work with an agency on my social," here's how we approach it.
How an agency can help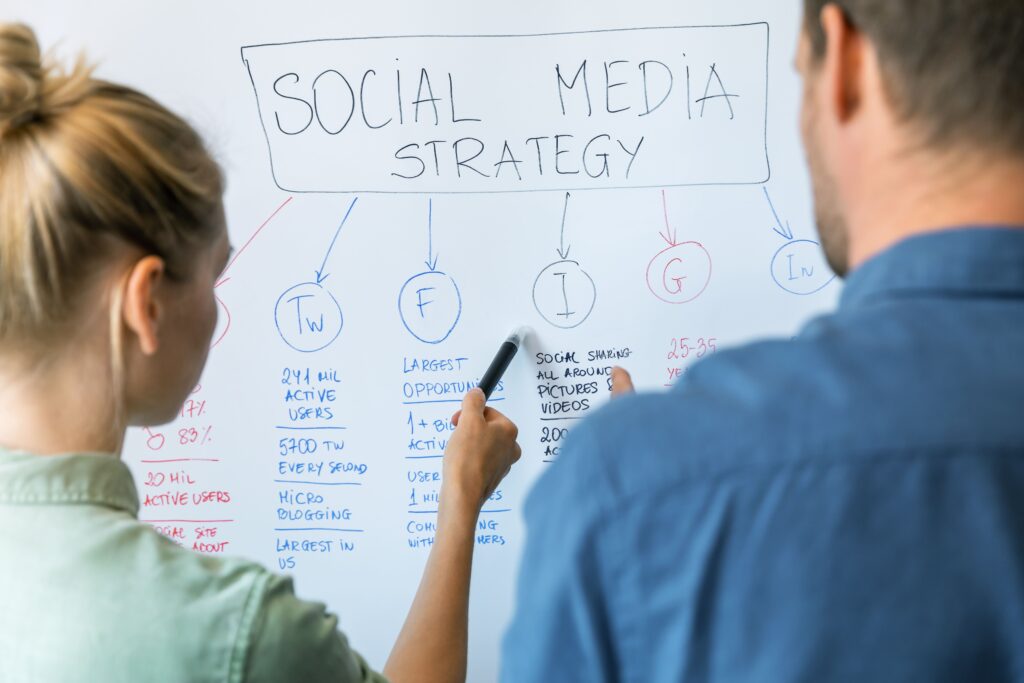 An agency can bring a wealth of knowledge and experience to your social media efforts, taking your online presence to the next level. Here are some of the ways an agency can help:
We are strategy-first
You can only build a house by first laying the foundation. An agency team goes to work to plan and strategize the best options for managing your social media in a way that meets your expectations and aligns with your business goals. A lot of thought, planning and consideration goes into posts, and you do not want to put just anything out there.
We help build momentum
A lot goes into one post – developing the look, feel and tone; drafting and scheduling content and creatives; managing engagement; and analyzing posts.
An agency has the capacity to develop, draft, schedule, manage and analyze social media. Being all in-house and briefed on your brand, an agency can work together efficiently to help you create a consistent stream of content, manage engagement and analyze the results of your social media efforts.
We develop and draft content
Are you looking to curate a visually cohesive and consistent look and feel for your social media feed?
Let's work together to make your socials stand out.
An agency will help you curate content that aligns with your brand's aesthetic and messaging. They can also help you identify what content resonates best with your target audience, whether fun short-form videos, exciting team photos, stunning graphics, or captivating text posts.
We manage engagement
Managing engagement is about extending your voice and building relationships with your audience.
If your business page gets a lot of comments or engagement, it can take time to keep up and respond to everyone. An agency can help alleviate this by responding to comments for you, solving disputes, monitoring for mentions, and identifying opportunities for conversation.
We analyze and look at the results
An agency will put a lot of time and effort into your social media. They are as invested in your success as you are.
But how will you know if that time and effort are paying off?
An agency can create detailed reports from the analytics gathered on your social page to prove success. Based on those results, they can also help you identify opportunities for improvement and adjust your strategy accordingly.
Conclusion
As social media continues to evolve and algorithms get more complex, it's important to stay on top of your feeds and maximize your return on investment as much as possible. From developing a strategy to drafting and managing content to analyzing and improving results, an agency can help you save time and resources while taking your social media to the next level.
–
KEEN Creative delivers expert social media management solutions to enhance your online presence. Don't hesitate to reach out for help when needed. Part of our process is educating our clients on the importance of staying active and engaged on social media platforms. Our team of experts will be happy to assist you in managing and growing your social media presence.